As the leader of your team, you must clearly understand and be able to pass on the purpose of your organization and your team's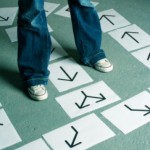 role within that organization. If you don't know the purpose of your efforts, you certainly won't be able to inspire your team to success.
Communicating purpose will take more than requiring your team to memorize the company mission statement, however. It must become part of the culture of what everyone in your organization thinks about, says, and does each day. It will influence decisions made at the top and choices made by the "lowliest" employee.
Keep your own sense of purpose honed and sharp. You are the leader. Keep that big picture in mind and know exactly where you are and where you are going. Communicate your enthusiasm and dedication. Carry everyone else along with you. It will take energy and effort, but no one said that being a leader was easy.
Grow together.
At times, it may seem that everyone has a different purpose, and that paths are diverging. Make sure that everyone sees the way back to the common goal, and that the impact their work will have on it is clear to them. It is as if each team member must make a brick, ensuring that it is strong and free from flaws, and then firmly set it in place, among others, so that the next course can rest safely upon it.
Friday is a great time to bring your team together, to review the week, discuss the one to come, and end the working day with a sense of triumph, feeling united, energized, and eager for what lies ahea